ASGL's approaches have a proven track-record and are extremely popular with our clients. ASGL methodologies are very flexible, and are regularly customized to fit the unique needs of our clients. Besides our methodology, we customize the project approach, terminology, tools and techniques used for each unique situation.
The tools and techniques in many of these Operational Excellence methods overlap. If a client prefers a particular name for their continuous improvement initiative, this overlap makes it easy for ASGL to weave the necessary tools and techniques into our client's existing program.
Specific tools and techniques used during an initiative depend upon both the opportunities being pursued as well as the client organization situation.
Our customized approaches make our consulting projects extremely successful, typically generating both large $ benefits plus organizational buy-in.

Rather than use only "step-function" or "continuous improvement" approaches to generate benefits…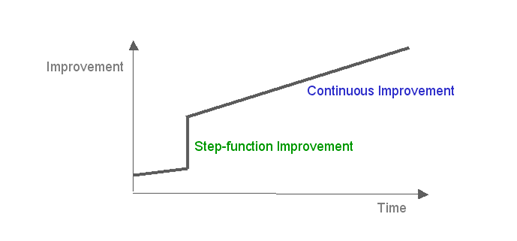 …we prefer to combine "step-function" and "continuous improvement" techniques for larger and sustained gains.
ASGL consultants each have decades of experience and flexible styles, which makes them extremely effective as facilitators, teachers, mentors and sensei. We can provide support at any step along your improvement journey:
Getting started
Speeding progress
Sustaining the gains